Life-changing Jackpots and Exciting Payouts
KenoGO has only been around for a short time but we have already paid out MILLIONS in winnings this year, including a number of life-changing winners!
Read some of the winning KenoGO stories below or start playing KenoGO for your chance to become our next big winner!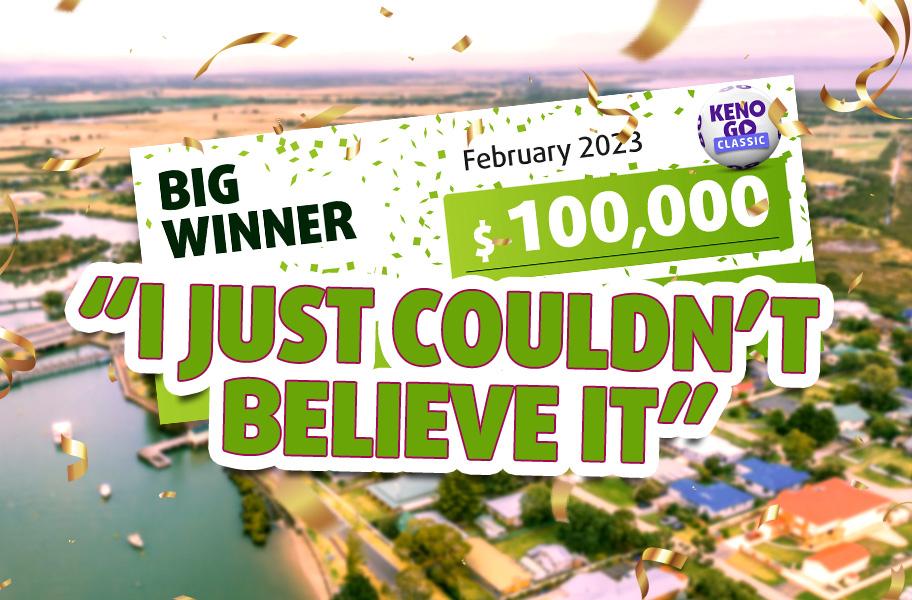 "Oh my god" – East Gippsland woman scores life-changing $100,000 KenoGO win
One lucky woman from the East Gippsland region hit the big time playing KenoGO on the weekend, scoring a "life-changing" $100,000 win from a $1 ticket on KenoGO Classic!
The winner was laying on her bed on a Saturday afternoon, trying to avoid the scorching Summer heat and decided to play a few games of the new Keno that she had seen on TV. She had previously been playing for about a month but hadn't really scored any big wins yet. Her biggest win on anything was around $1200 from a poker machine about 15 years prior.
In this game, she selected 9 numbers and to her disbelief, all 9 came up. When she found out she had won, she simply said, "Oh my god" and immediately grabbed her daughter (who didn't believe it until she saw the phone), screaming "I've won $100,000, I've won $100,000".
The win didn't immediately sink in for our winner, who was unsure what to do with her win, saying she would save it for a rainy day or take a small holiday up the coast. Her advice to others who are hoping to win is simple: "You never know your luck."
We want to congratulate our lucky winner and wish her all the best with her newfound wealth!
Play KenoGO Classic for your chance at $1,000,000 every 3 minutes!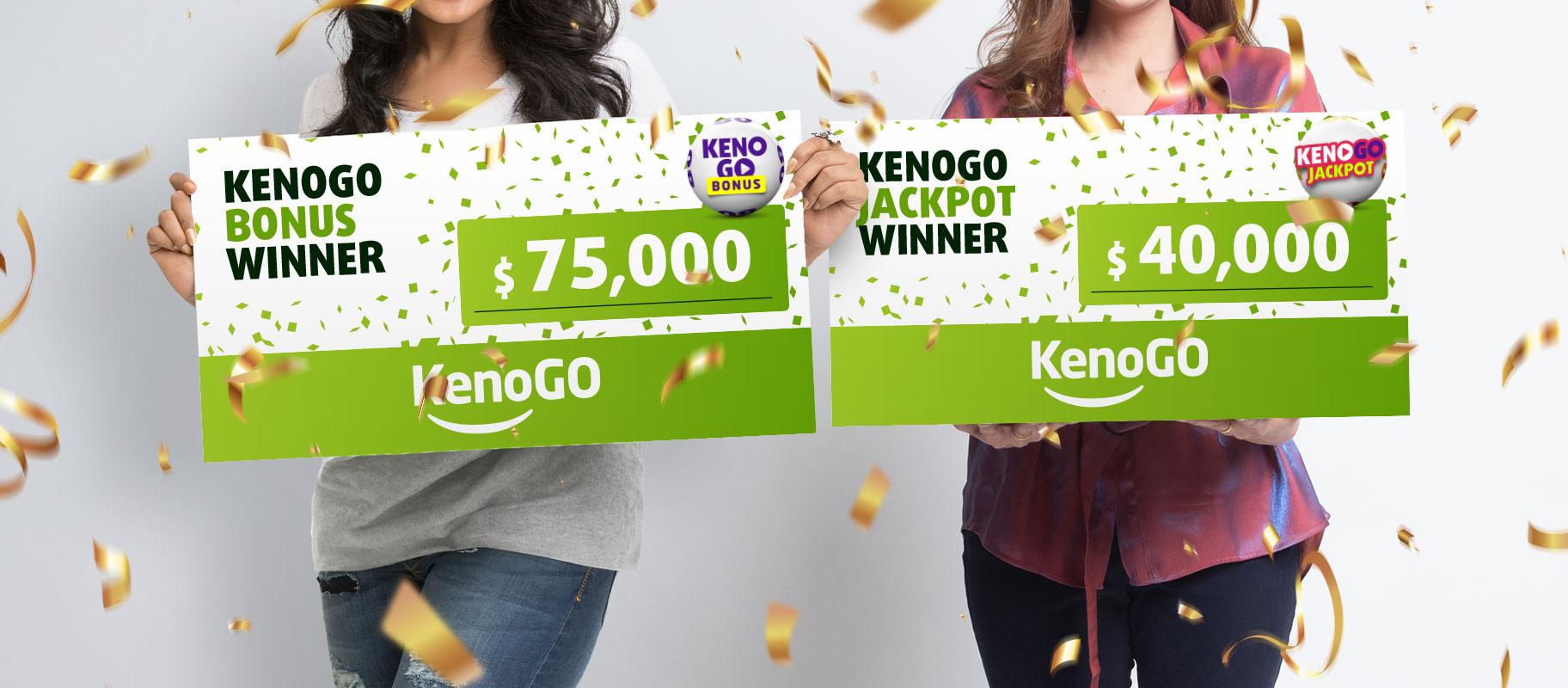 Long weekend produces two huge KenoGO winners
Collingwood may have secured the AFL Grand Final, but they weren't the only big winners over the long weekend.
Two Victorian KenoGO players scored amazing wins, taking home $75,000 and $40,000 respectively.
The $75,000 winner purchased her tickets on KenoGO Bonus and then went to do some chores around the house. When she returned to check her games, she thought she'd won $150 and was extremely pleased – but then double-checked her balance and went blank when she saw a whopping $75,000!
She selected the numbers based on her and her family's age, plus some of her daughter's favourite numbers. After she won, she called her husband and told him to bring home the champagne!
Our other winner also put her phone down and was in disbelief when she returned to check her balance, saying "No, this isn't happening right now" as a huge $40,000 jumped into her account, thanks to a 6 out of 6 match on KenoGO Jackpot!
Congratulations to both winners!
Play KenoGO for your chance to win every three minutes!
$50k winner scores on lucky numbers
A Victorian woman scored an incredible $50,000 win on KenoGO Bonus this week, but it was her method of selecting the winning numbers that was even more incredible!
The winner selected all numbers that ended in six – 6, 16, 26, 36, 46, 56, 66 and 76… and all of them came up!
She was sitting in Mcdonald's when she was watching the draw and couldn't believe her luck when she saw all her numbers come up.
The winner has plans to purchase a new car with her winnings, plus enjoy a holiday with friends, where she can enjoy a "parma and a pot at the pub"!
Congratulations and enjoy!
Play KenoGO Bonus for your chance to win every 3 minutes!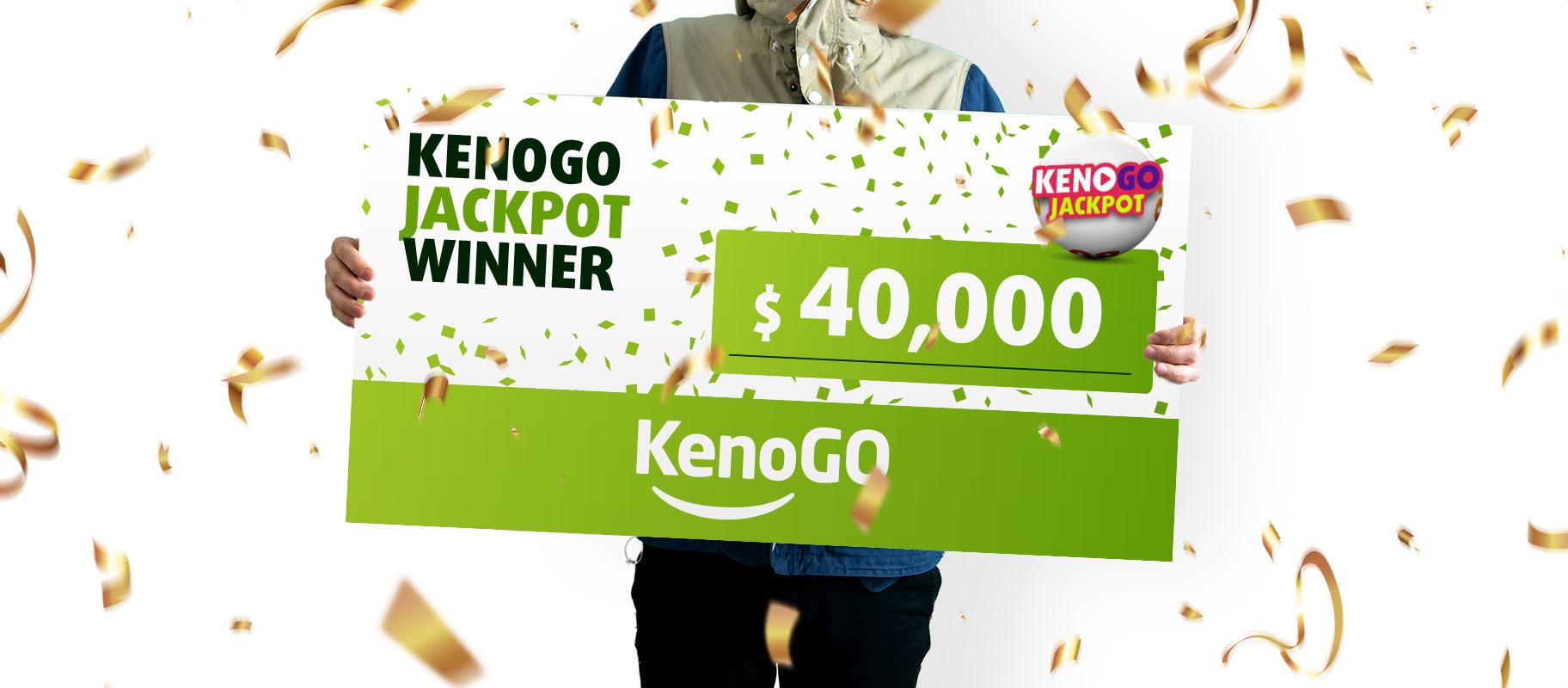 48-year-old man turns $2 into $40,000!
A 48-year-old man recently turned his $2 KenoGO Jackpot ticket into an eye-watering $40,000 when he successfully matched 6 out of 6 numbers on KenoGO Jackpot!
The winner was lucky enough to match all his six numbers when the jackpot level was "Major", which meant his win was significantly larger than the usual 6 out of 6 prize.
His win was boosted from $1,800 up to a whopping $40,000 for matching 6 out of 6 numbers – a 21x increase on the standard win.
He also scored a $7,500 win just a few months earlier and said that he was in "disbelief" when he won the second time.
Well done to our boosted winner!
Play KenoGO Jackpot for your chance at up to $20,000,000 every 3 minutes!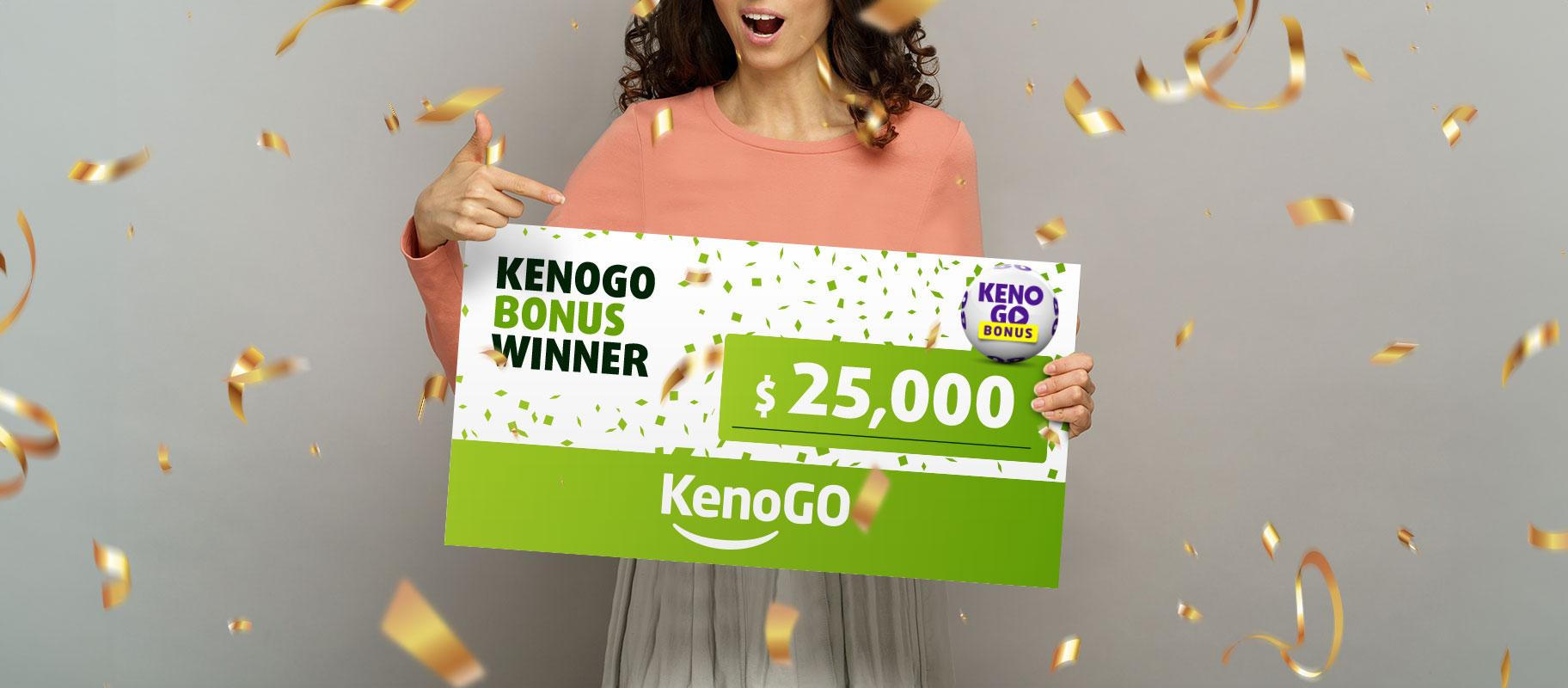 "I was in tears - it just means so much" – 53-year-old scores $25,000 payday
A 53-year-old woman was the latest player to score a "life-changing" win on KenoGO, scoring a massive $25,000 for matching 8 out of 8 numbers on KenoGO Bonus!
The winner placed a $10 ticket on 5 games of KenoGO Bonus and was "absolutely just in shock" when she checked her phone later and saw the amazing win, recalling that she "checked the games and I don't know, I had won".
Shortly after, the reality of the win set in for our winner, who said "I was in tears - it just means so much". She then called her Mum to inform her of the win, who was also elated to hear the news.
When we asked the winner why she decided to play KenoGO, the answer was simple, "KenoGO is just fun to play. I thought I'd just try and see if I win anything".
Well, win she did and we couldn't be happier for her!
Play KenoGO Bonus for your chance at $1,000,000 every 3 minutes!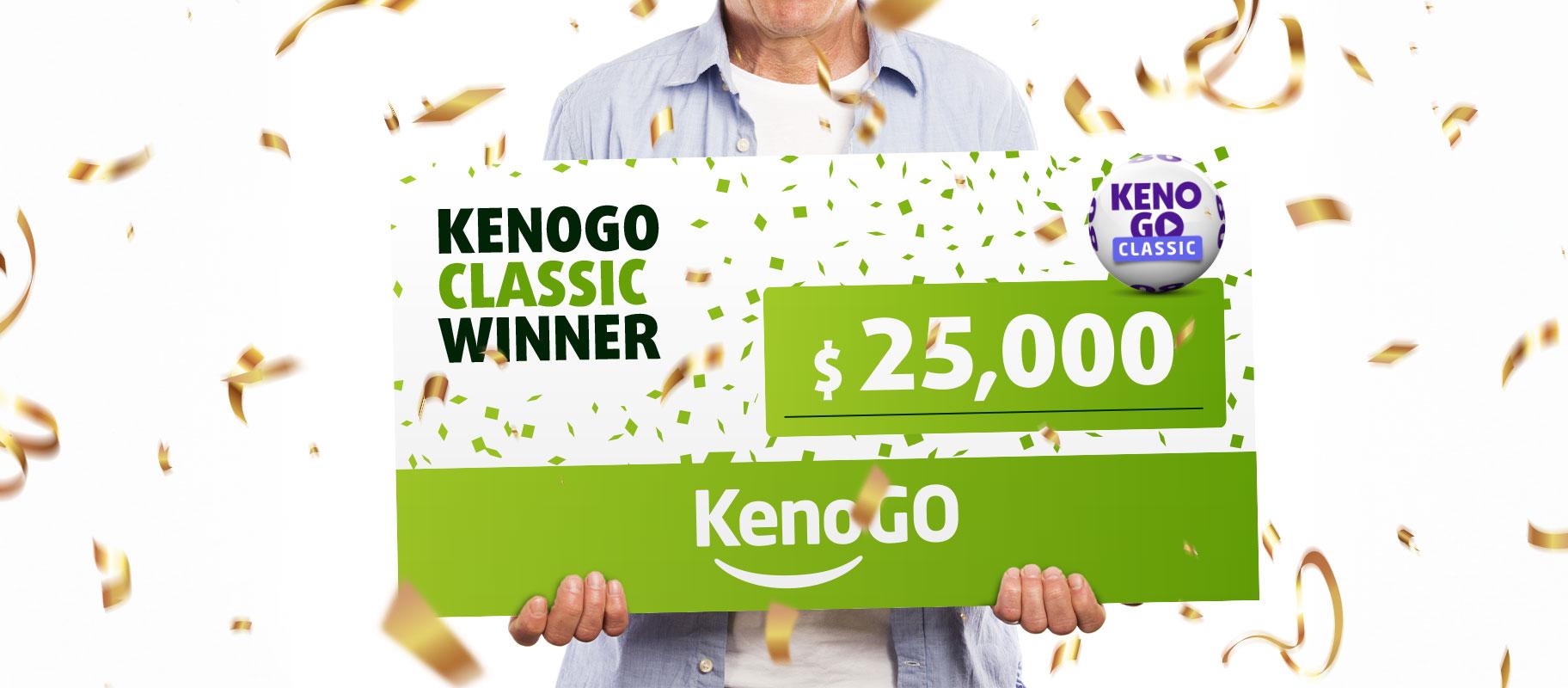 "I'll believe it when I see it in the bank!" - man wins $25,000 on $1 KenoGO Classic ticket
A 62-year-old man from the Gippsland region scored an amazing win on KenoGO Classic, matching 8 out of 8 numbers, turning his $1 ticket into $25,000.
The man was initially sceptical of KenoGO saying that "he thought it was a scam" but decided to play because "scams aren't advertised on TV". What a decision that proved to be!
Despite matching his numbers and having $25,000 in his KenoGO account after the win, the man was still unsure about whether his win was legitimate and he even said to his wife "I'll believe it when I see it in the bank"!
Fortunately, KenoGO were quickly in contact and his concerns were alleviated as the win was promptly paid into his bank account. When asked about his experience with KenoGO, he stated "Brilliant. Very good. They got back to me with emails and have kept in contact".
We are glad that our winner was happy with our service and we'd like to congratulate him again on his win!
Play KenoGO Classic for your chance at $1,000,000 every 3 minutes!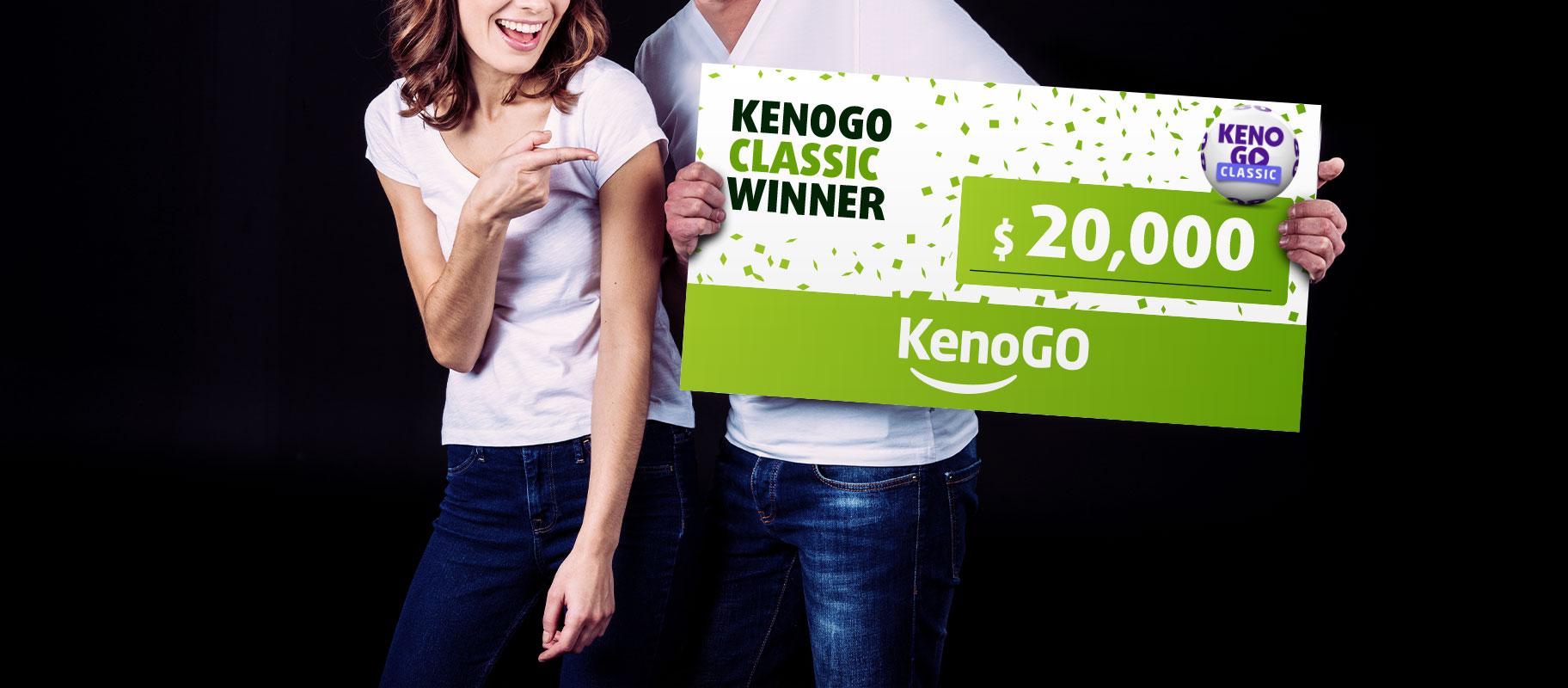 Vic woman one number away from $2 million
A 52-year-old woman narrowly missed out on scoring a life-changing $2 MILLION win on KenoGO Classic this week.
The lucky lady played a $2 ten-number KenoGO Classic game and matched nine numbers, needing just one more to become the first KenoGO millionaire…
Although it was agonisingly close to a mammoth win, the woman was still ecstatic with her win and "couldn't believe it", taking home a huge $20,000 for matching nine out of ten numbers.
The win just so happened to occur on her mum's birthday too, so we bet they'll be celebrating extra hard this year!
Play KenoGO Classic for your chance at $1,000,000 every 3 minutes!
41-year-old woman turns $2 into $15,000 on KenoGO Jackpot
Just west of Ballarat, a 41-year-old woman scored a handy win on KenoGO Jackpot, turning her $2 ticket into an incredible $15,000.
The winner opted out of going for the Top Prize, where you need to match 10/10 numbers and instead went for 6 numbers instead - a strategy that paid off in the end, with the player securing a $15,000 win!
With a Minor Jackpot in play for the game, her win was up from the regular $1,800 payout on the 6/6 match, almost a 10x boost! Had a Major Jackpot been in play for that game, she would have won a huge $40,000... Still, we think she'll be happy with her $15,000 payday!
Just a few weeks later, there were two almost identical winners - a 24-year-old man from Melbourne and a 52-year-old woman who both also took home $15,000 when matching 6 from 6 on KenoGO Jackpot. The 6/6 game is proving to be quite popular with KenoGO players!
Play KenoGO Jackpot for your chance at up to $20,000,000 every 3 minutes!
Three KenoGO players one number from $1 million
On an incredible weekend of KenoGO, three players came agonisingly close to hitting the jackpot and becoming KenoGO millionaires.
All players just needed to match one more number to score a whopping $1 MILLION prize from their $1 tickets...
They still each took home $10,000 for matching 9/10 numbers, however, joining a woman from Kilmore who scored $15,000 on KenoGO Jackpot in what was a winning weekend for players.
Who will be the next big winner?
Play KenoGO Classic for your chance to score $1,000,000!